Customer Service
Thank you for choosing scooterpartscatalog.com - At Scooterpartscatalog.com, we work hard to provide our customers with the best possible customer service. See the FAQ's below for answers to commonly asked questions. If you don't find an answer here, please let us know!
FAQ's
Contact Information

Scooterpartscatalog.com
17515 Spring Cypress RD,
Ste C156
Cypress, TX 77429
Tel: 281 948 3985
Fax: 281 746 2550
Email: sales@scooterpartscatalog.com

Ordering Online

Shipping

Returns
Site Security – Is your web site secure?
Our website is hosted on Yahoo! Servers. Yahoo! is a worldwide leader in Shopping cart technology and uses the most current online security protocols. Yahoo! uses secure servers to protect your personal information, including your name, address, and credit card information. We use the Stronghold secure servers, that support industry-standard 128-bit SSL encryption. When you enter your credit card number into the shopping cart, it is transmitted to us in an encrypted (scrambled) form and not decoded until we receive it. We are CISP Compliant - Created by Visa and MasterCard, the Cardholder Information Security Program (CISP) outlines a standard for security procedures for merchants and service providers that process and/or transmit cardholder data.

Note: Shopping online is considered fairly low-risk. According to CNN, "The prevalent opinion is that online credit card use is actually no riskier for consumers than traditional 'low-tech' transactions." You should feel as safe as you would using a credit card in a store or restaurant, if not more so. So relax, and enjoy your shopping experience with us.
Can I place my order over the phone?
At present we do not take orders by phone.
We accept Visa, MasterCard, Discover, American Express and PayPal. There is No "surcharges" of any kind for credit card payments. We prefer that orders placed by credit card be shipped to billing address associated with the credit card, but you may choose to enter a different shipping address if the billing address entered is correct. Scooterpartscatalog.com does not condone credit card fraud and will aggressively pursue or report to law enforcement any fraud cases when detected.
After you transmit your order you will be issued an order number and an opportunity to print the order confirmation, also provided that you provided a correct and active email address, a confirmation email will be send to you automatically.
Online Order Status - How can I check the status of my order?
Follow the link on your order confirmation email to check the status of your order.
There is No Sales Taxes charged except when the shipment is shipped to an address in Texas.
Note:
International freight charges are estimated during the checkout process. The shipping cost might be recalculated if the the actual cost is slightly higher, but if the actual freight is substantially different from the amount calculated at checkout, you will be notified prior to shipping your order for approval of any additional freight charges exceeding $8.00 that may apply.
We ship parts all around the world but we reserve the right to refuse some international orders, in such an event you will be notified promptly. Some countries outside the United States may restrict importation of certain items. It's the responsibility of the buyer to check with proper authorities if such restrictions exist. All international duties, taxes and shipping charges where applicable are the responsibility of the buyer.

Note: International freight charges are estimated during the checkout process. If the actual freight is substantially different from the amount calculated at checkout , you will be notified prior to shipping your order for approval of any additional freight charges that may apply.



We strive to ship all orders within 24 to 48 business hours from the time order is placed provided that all items in the order are in stock. We update parts availability on a continuous basis, but in the event an item runs out of stock before filling your order, we will notify you promptly of the back-order status. We recommend ground shipping on all shipments. Postal shipping is recommended for shipment to Puerto Rico, Mexico, Hawaii, Alaska, nearby islands, and FPO and APO addresses. Please note that we cannot insure postal shipments against damage or loss in transit, however, UPS shipments are covered up to the point of delivery.
Please note
: Most orders ship from Florida warehouse.
Transit Times
(From day order is shipped to delivery day.) For most shipments, the following map will show the approximate transit times for UPS ground shipment. The transit time map below shows estimate transit times that may be subject to other conditions at time of shipment. Please refer to UPS and USPS tracking information and/or websites for more accurate transit times.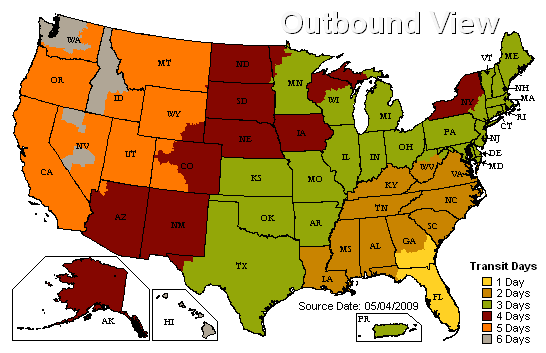 Currently we use ground as the default shipping method. Expedited shipping methods are available upon request. We use UPS ground or USPS (postal mail) for all ground shipments
After your parts are shipped out, we shall email to you a tracking/delivery confirmation number that can be used at either www.ups.com for UPS ground or www.usps.com for Postal mail to track your shipment.
Stock Parts: Are warranted for 30 days from manufacturer defects with the following exceptions. Electric scooter controllers are not warranted or returnable due to the nature of electronics and the potential for damage during installation. If you need a controller replaced please take your scooter to a service center.
Performance Parts: We do not warranty any of these items or approve for street use. Performance items come with the original manufacturer's warranty against factory defects.
Manuals and Books: We do not warranty any manuals, books or publications of any kind.



Parts can only be returned within 30 days of original receipt. All returns must be pre-authorized. Please complete a RMA request form to obtain a Return Merchandise Authorization Number (RMA#) before sending any parts/product back. This number must be written on the package and on the sales receipt/document. Any packages without a RMA# will be refused and returned to sender. A copy of the picking ticket or order confirmation must be sent with the item to be returned. We will inspect the item to ensure it is still in new condition and issue a refund to your credit card or other method of payment as used at time of order. Original shipping cost is not refundable and a restocking fee of up to 20% may be applied to returned parts.
We are not responsible for lost returned shipments. Please send the item by a traceable method such as UPS or Postal service with delivery confirmation. The following items are not acceptable for return: All High-Performance Parts, Electrical Items (Battery Chargers, Controllers, CDIs, Regulators, etc.), Items Sold By The Foot, Tools, Engines, Special Orders, Manuals, Books, Oils/Chemicals (consumables) or any Used Parts.